视频欣赏 Video
  WTM常务董事Mr. Simon Press、上海旅游局副局长吴建国先生、欧睿信息咨询公司旅游业中国分析员Mr. Ray Li、环球蓝联副总裁Mr. Manelik Sfezz作为演讲嘉宾,对中国及全球旅游业进行分析和预测;中旅途易旅游首席执行官Mr. Marcel Schneider、上海锦江国旅执行总裁葛万军先生、MIKI Travel上海总经理周琴霞女士、安徽中国旅行社总裁李国庆女士分享企业运营经验和专家观点。
  国际旅业高层论坛——2012 WTM上海远景会议(WTM Vision Conference Shanghai)5月10日成功举办。会议由全球领先的国际专业展会——世界旅游交易会(WTM)主办,并得到中国商务集团(CBN)及旗下英国中商世界游和世界游网的倾力支持。超过160位国内外出入境旅业精英齐聚,发布权威数据,交流运营经验,探讨发展前景。 详情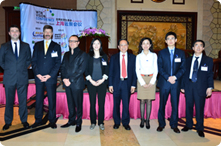 With the great support of China Business Network (CBN) and its subsidiary CBN Travel & MICE and World Travel Online, the first WTM Vision Conference Shanghai was a resounding success. Over 160 senior tourism officials from around China gathered together to share experiences and discuss development prospect.
Details
精彩演讲 WTM Vision Conference Shanghai Presentation
中国入境及出境游市场辩论会
The Panel Discussion on the Chinese Inbound and Outbound Markets
参会感言
Reflections from Participants
上海中旅
总经理 李怀发

  去年我和上海旅游局道局长参加了WTM,我们认为这是个真正的B2B展会,无论展会规模、整体组织和现场气氛都是一流的。我很希望参加这样高规格的论坛,对演讲嘉宾和论坛内容很感兴趣。

Chairman of WTM
Fiona Jeffery

The WTM Vision Conference series has been a great success since it was launched in London in 2009. The industry has shown a great demand for mid-year information, research, analysis, and opinion to help shape business strategies.

Head of Global Partner & Corporate Marketing of Global Blue
Manelik Sfez

Everything was perfect indeed. I will be happy to join next time or whenever you feel it is relevant.

CEO of TUI China
Marcel Schneider

Over all and taking into consideration that it was the first time this event took place in Shanghai I believe the outcome was good. I am more than delighted to contribute also to the second edition of the WTM Vision Conference next year.

Eastern China Area Director of Singapore Tourism Board
Jasmine Lew

Thank you for extending invitations to the Singapore Tourism Board for the recent seminar. WTM Vision Conference Was a great platform to network with some of the industry partners, and share insights.

捷达假期
市场部经理 郑起军

  我很期待参加这个高端会议,并希望了解旅游业发展趋势、成功企业及其高层的想法、各目的地针对中国的政策措施、电子商务营销方法等各方面内容。

主流媒体报道 News Released by Main Media in China